Publikacje i wystąpienia międzynarodowe
Dr n. med. Salwa jest uznanym i cenionym specjalistą w dziedzinie leczenia raka prostaty za pomocą metody robotycznej. Wygłaszał referaty na najważniejszych kongresach niemieckich, europejskich i międzynarodowych. Oto lista najważniejszych z nich:
2018 Francja – 15th Meeting of the EAU Robotic Urology Section, Marsylia
2017 Polska – Jubileuszowe Spotkanie Fundacji Rak Prostaty – "Gladiator"
2017 Niemcy – Masterclass Prostate Cancer – MRI In Prostate Cancer Detection and Treatment
2016 Chiny – International Forum on Frontiers In Urology
2016 Rumunia – 7th International Conference Progress in Uro-oncology
2016 Polska – Second International Congress of Polish Society of Robotic Surgery in Wroclaw
2016 – 31st Annual European Association of Urology Congress
2015 Hiszpania – 12th Meeting of the EAU Robotic Urology Section, Bilbao
2014 Holandia – 11th Meeting of the EAU Robotic Urology Section, Amsterdam
2013 Szwecja – 10th Meeting of the EAU Robotic Urology Section, Sztockholm
Poza wykładami i prezentacjami dr n. med. Salwa jest zapraszany jak Proctor, tj. swego rodzaju nauczyciel, by podzielił się swoimi doświadczeniami i techniką operacji za pomocą robota chirurgicznego z lekarzami z ośrodków w Niemczech, Polsce, Rosji czy Turcji. W celu nawiązania współpracy, zapraszamy do kontaktu.
Dr n. med. Salwa jest autorem licznych prac naukowych, które zostały opublikowane wyłącznie w prestiżowych amerykańskich (np. American Journal of Pathology, Cancer Research, BMC Cancer) i europejskich (European Urology Supplements) journalach.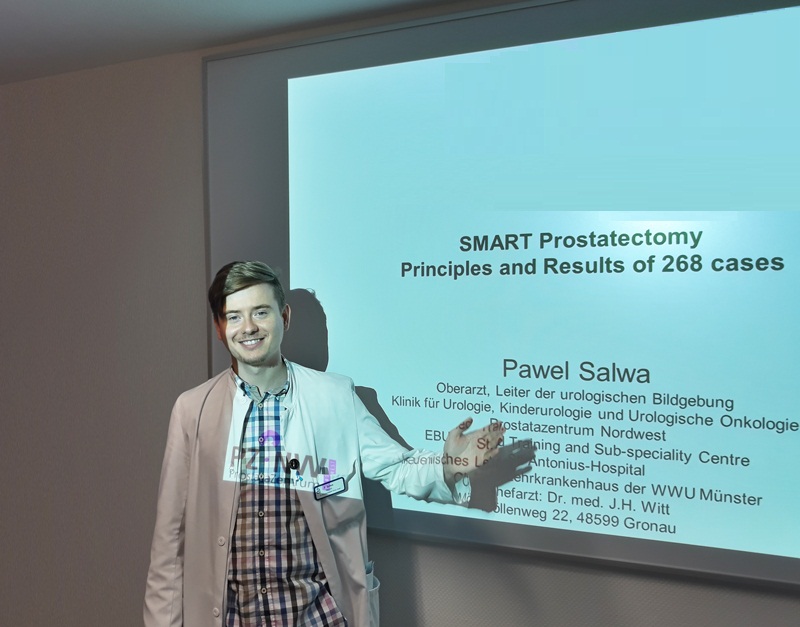 Lista publikacji naukowych
Zinc protoporphyrin IX, a heme oxygenase-1 inhibitor, demonstrates potent antitumor effects but is unable to potentiate antitumor effects of chemotherapeutics in mice."
BMC Cancer 2008 8:197.
Impact Factor
2,71
Proteasome Inhibition Potentiates Antitumor Effects of Photodynamic Therapy in Mice through Induction of Endoplasmic Reticulum Stress and Unfolded Protein Response."
Cancer Research 2009 69: (10)
Impact Factor 7,672
Cardiotoxicity of the anticancer therapeutic agent bortezomib."
The American Journal of Pathology Vol. 176, No. 6, June 2010, 69: (10)
Impact Factor 5,6
Approaches to improve photodynamic therapy of cancer."
Frontiers in Bioscience May 2010 ISSN: 1093-9946
Impact Factor IF= 3,308,
666 Single surgeon perioperative and early functional results of initial RARPs after graduating "ERUS robotic urology curriculum fellowship (pilot study II)" for robot-assisted radical prostatectomy (RARP) ."
European Urology Supplements 2016, Volume 15 Issue 3 March 2016
Impact Factor 3,3
Similar functional results after robot-assisted radical prostatectomy for patients with low/intermediate vs. high risk prostate cancer."
European Urology Supplements 2015, Volume 14, Issue 5, Pages 79-144
Impact Factor 3,3
Single surgeon perioperative and early continence results of initial cases after graduating 'ERUS Robotic Urology Curriculum Fellowship' (Pilot Study II) for robot-assisted radical prostatectomy (RARP)."
European Urology Supplements 2015 Volume 14, Issue 5, Pages 79-144
Impact Factor 3,3
Comparison in perioperative results between the use of a valveless trocar system and the standard insufflation technique during robot-assisted radical prostatectomy."
European Urology Supplements 2014, Volume 13, 1—60
Impact Factor 3,3
"Perioperative, oncological and functional results of initial 375 SMART (Salwa Modified Advanced Robot-assisted Technique) prostatectomies performed by single, ERUS Fellowship-trained, surgeon"
European Urology Supplements 2018, Volume 17, Issue 7
Impact Factor 3,3